annikaschroeer
30 Oct '18
As part of the ERM work, in Leipzig we are developing the eUsage app for handling COUNTER statistics on e-resources. See our FOLIO wiki page for more information on the data model and wireframes: https://wiki.folio.org/display/RM/eUsage.
I also demoed the current state of the app in the last ERM SubSIG meeting on Oct 24th, if you like to see it in action (recording: https://drive.google.com/drive/folders/17-AAS8JPMF77MIeRdDCqkIeD0ZO-WWP0, starting at about 24:00 - after a small fight with zoom, sorry
).
We are currently working on (and have nearly finished) automatically harvesting COUNTER reports via SUSHI and storing them as they are, enriched with metadata on vendor, platform, report type, report month etc. This metadata, vendor and platform, is the link to the e-resources agreements stored in ERM, and from those to the financial details needed for some statistics.
Our next steps will be to
calculate and display basic statistics, viewable from the ERM app
enter basic usage data for non-COUNTER vendors (to be stored along with the harvested/uploaded reports)
For b) there will be a separate discuss post in some time, because there are many different aspects to be considered and decisions to be made. For a) I'd like to ask you for feedback and requirements now.
1. An impression of what it might look like
Our first ideas are to add a "statistics preview" accordion to ERM agreement- and e-resource screens. This area will display visualizations of calculated agreement or title statistics. There will be a certain number of predefined statistics (technically implemented as small plug-ins), from which each library can choose the relevant ones in the ERM setting area.
We have a wireframe for each:
ERM statistics preview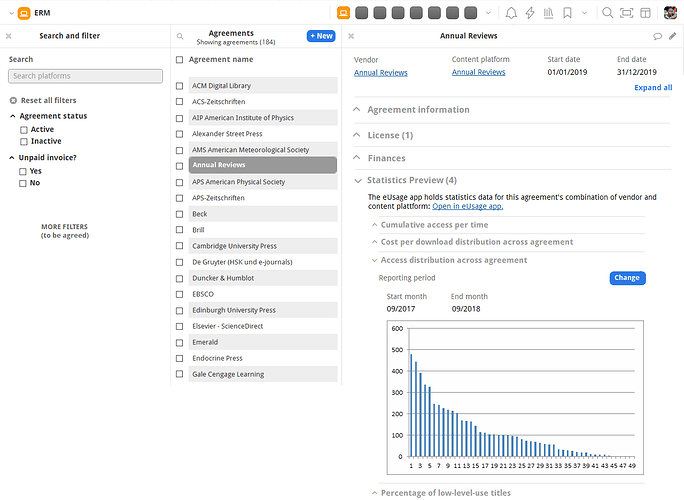 Configuration: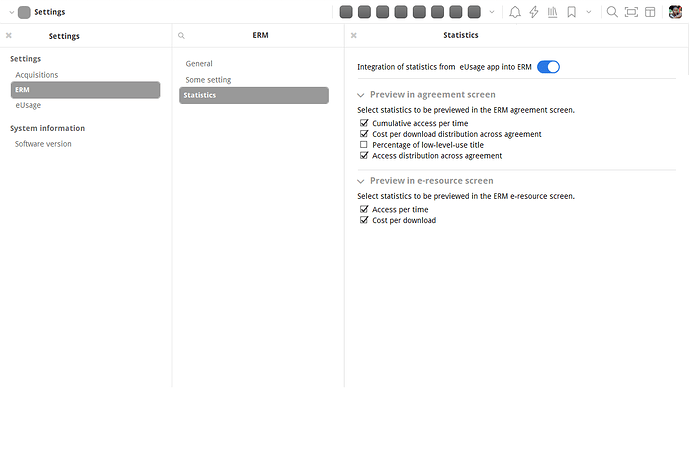 What do you think about the UI? Is this useful, the right place, what's missing?
2. The statistics - what do you need?
The following statistics are the most important requirements from UB Leipzig staff - this will most certainly not be all that anyone can think of.
Agreement based:
Cumulative access per time

An overview of how access to all title of the agreement changes during the year.

Cost per download distribution across agreement

Are there some titles with special costs per download, is there an even distribution across the agreement? (This report needs individual prices for the single titles of an agreement.)

Access distribution across agreement

Is this an agreement with a small number of heavily used titles and a long list of low-level-use titles? Or is it an even distribution? Maybe it's worth to consider licensing the important titles as single licenses instead.

Percentage of low-level-use titles

The same use-case as before: is there a small or large number of not-so-valuable titles in an agreement? Is it worth licensing the bundle of titles ir would it be better to go for individual licenses?
E-resource based:
Access per time

Simple change of access during the year

Cost per download
What else is there? What do you need?
We'll also be very happy about any help with the phrasing, as non-native speaker it's hard to get the right terms
Thanks for reading, I'm excited for your input