peter
21 Dec '16
As the Special Interest Groups are getting started, I wanted to remind colleagues that you can have this site send you email when new topics and posts are created in SIG categories. Near the upper right corner of each category (such as this category for the Resource Management SIG) there is a circle and a pull-down menu icon.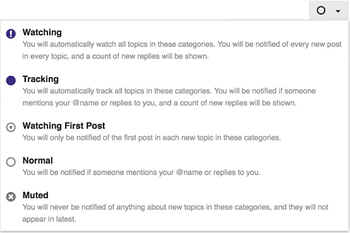 In that menu there are notification options for the category. If you are following what is happening in a SIG, you will probably want to select either Watching or Watching First Post:
Watching: Receive an email message for ever new post in the category. This is similar to a traditional email list.
Watching First Post: Receive one email message for every new topic (e.g. thread) in the category. If you want to follow the thread of discussion in that post, use link in the email go to the topic's page and set the notification options to Watching.
At any time, if someone uses the @-name shortcut to mention you by name, you'll automatically receive an email (whether you are watching the thread or not).
For more details, see interacting with discuss.folio.org like a mailing list.